ITT into Early Career Teacher event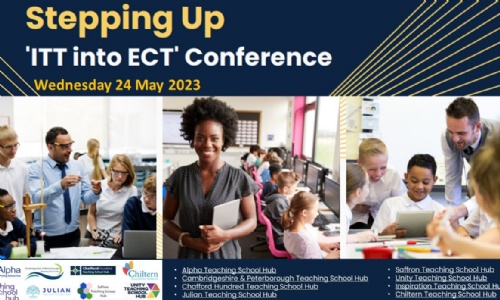 In May, Teaching School Hubs in the Eastern Region hosted an online 'ITT into ECT' conference for primary and secondary trainee teachers moving into their ECT year. Resources from this event (slides and video recording) are now available to view on our website.
This event was hosted by the Saffron, Alpha, Chafford Hundred, Cambridgeshire & Peterborough, Chiltern, Inspiration, Julian and Unity Teaching School Hubs.
The event gave trainee teachers going into their ECT year the opportunity to:
Learn more about all aspects of their ECT years, including what is expected of them and how they will be supported and assessed
Hear from current ECTs, mentors and Induction Tutors
Find out more about organisations who can support their continued development as a teacher
Event resources
Click on the links below to view resources from this event, including the event slide presentation and video/audio recordings of the sessions:
Resources from this event are also available on our website here.