Why become a teacher?
---
Teachers make a difference.  Much like doctors, nurses and vets, teaching is more than just a job, it is a profession and a vocation. A good teacher can be the difference between a child falling through the cracks or developing a newly discovered interest that could become their lifelong passion and career.
Sitting in any classroom across the country are the entrepreneurs, innovators and craftsmen of tomorrow. By inspiring and supporting the next generation, teachers have a profound impact on society; there are very few other professions that will provide the same sense of achievement and accomplishment.
As most teachers will tell you, there is no such thing as a 'typical' day at work - no two days are the same. You are unlikely ever to be bored by a lack of variety. It is also a career that offers great benefits, opportunities for you to use a wide range of skills and inspire students in the subject you love, to make a difference and inspire the next generation.
You may remember a truly brilliant teacher from school who made a real difference to your life. As a teacher you can use your knowledge and passion for your subject to help children unlock capabilities and talents that they did not even know they had. You will develop a wide range of transferable skills for yourself in the process.
In addition to planning and teaching a range of engaging lessons, you can indulge in your hobbies and interests as part of your work by getting involved in after-school clubs, trips, or sport.
If you are someone who has a positive outlook, has a passion for making a difference to the lives and development of young people, has good interpersonal skills and is independent, resilient and adaptable - then teaching is for you!
A career for the future
Teachers learn as well as teach. Teachers are not only exposed to child and educational psychology as well as best practices in education and master new subjects, they are helped to keep up to date with the latest innovations in technology and teaching and develop their own learning. Teaching also offers great personal development in areas such as public speaking, time management and organisational skills. If you want to remain teachable, or just have a thirst for knowledge, becoming a teacher will ensure at you learn as much as you teach.
The Golden Thread of Teacher Development is a key strategy for the Department for Education and as such there are evidence informed, research based professional development programmes that are designed for each stage of our career. From the Core Content Framework in your initial teacher training year, to the Early Career Framework in your first two years of teaching, to the specialist National Professional Qualifications and Leadership National Professional Qualifications as you progress in your career.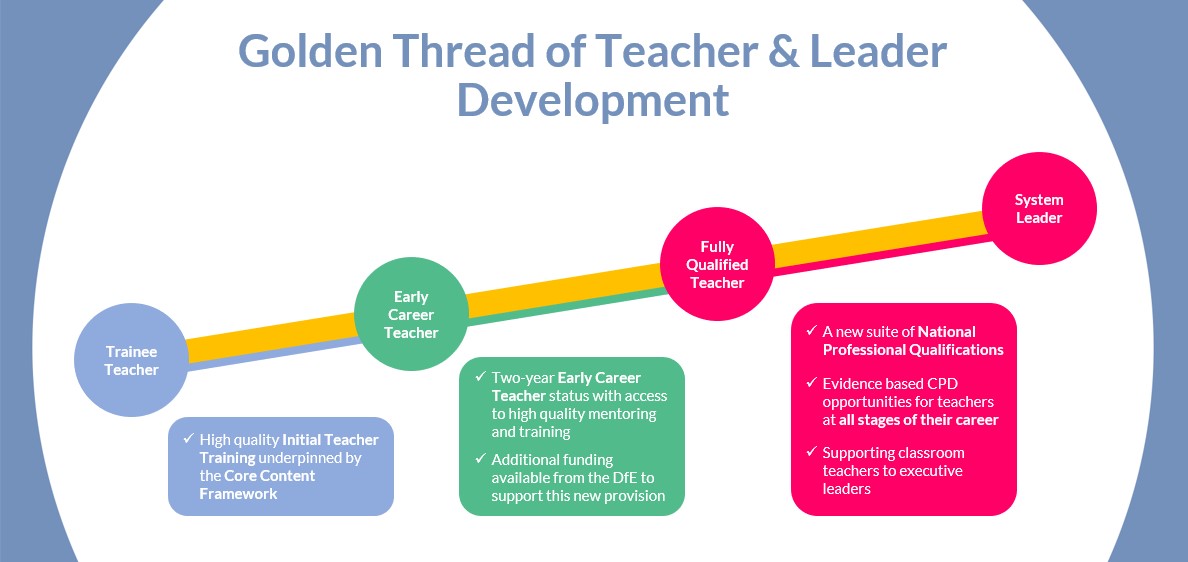 Once qualified, there are many chances for good teachers to climb the career ladder and find opportunities for employment within our beyond the local area.
Schools within the Teaching School Hub area are committed to the continued professional development of our teachers and realise the importance of the need for continued training and support in the first few years of teaching.
This starts with the ITT Core Content in your teacher training.
The ITT Core Content Framework (CCF), published in November 2019, defines the minimum entitlement for all trainees and places a duty on ITT providers and partner schools to work to embed this. More information on the ITT Core Content can be found here.
As part of the Department for Education's Recruitment and Retention Strategy, which launched in January 2019, they published the Early Career Framework. This sets out what all early career teachers should learn about and learn how to do. It has been developed in close partnership with the profession and draws on the best available research evidence and has been designed around the most effective forms of professional development. The framework is underpinned by an entitlement to a fully funded, two-year package of structured training and support for early career teachers. The national roll-out of this framework started in September 2021. You can find out more about the Early Career framework here.
Teaching offers a competitive salary and great benefits
As a teacher, you will earn a competitive, secure salary and have access to a wealth of other benefits, from a generous pension to up to 13 weeks of holiday allowance - so you can look forward to a career that is both personally and financially rewarding. Many of the trainees who train within our Hub area go on to work within this area and give back to these local communities.
As a Hub we are keen to recruit the best teachers for our local area and want to help you find the right course for you to thrive.