Learning through the arts – teacher development through Disciplined Inquiry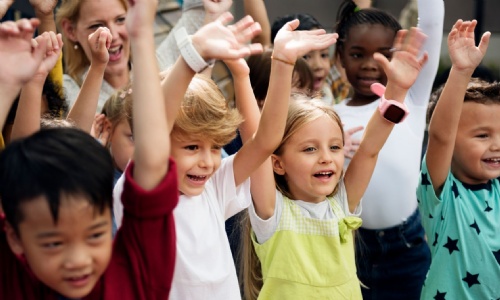 With the current – and often necessary – focus on enabling pupils whose schooling has been significantly disrupted by Covid to 'catch up', we could perhaps be forgiven for overlooking the impact that learning through the arts can have on children's learning and wellbeing.
Over the past 3 years I have had the privilege of working with a group of schools on a project funded by Paul Hamlyn Foundation focusing on developing 'School Readiness Through Musicianship'. Witnessing the impact of engaging in regular group music sessions, carried into continuous provision, on children's personal and social development and their communication and language skills led me to reflect on the potential of arts-based learning across the curriculum.
Paul Hamlyn Foundation expresses this potential on its website:
"The arts play an important role in enriching young people's learning and educational experiences. Exposure to the arts can unlock potential in young people, helping them to develop skills in communication, collaboration, creativity and problem solving. In addition to the enjoyment and enrichment the arts bring, arts education can increase young people's engagement in school and learning, and support key educational outcomes."
Aside from the positive impact on children's learning, the project also provided evidence of the power of collaborative 'Disciplined Inquiry' in enabling teacher development, as championed by Dylan Wiliam ('All teachers should be seeking to improve their practice through a process of 'disciplined inquiry.' (researchEd2014)) and echoing his work on Teacher Learning Communities (Wiliam, Solution Tree Press 2011).
This article from the Huntington Research School exemplifies one approach to DI in action:
https://researchschool.org.uk/huntington/news/developing-disciplined-inquiry
"We don't have teachers undertaking research that is being shared across schools as the ​'answer', but we do have a process that supports really hard thinking about our practice, in a process that is supportive, intellectually challenging and formative."
Drawing on the inspiration of this article, the staff of Durrington Research School began their whole school DI journey by considering the following questions
What's the problem I'm trying to solve?
What does the research evidence say?
What am I going to do differently to address this?
How will I monitor progress and make sure I stick with it – with fidelity?
Who's my critical friend/​s?
How will I share my success/​challenges?
How will I evaluate impact?
What's my inquiry question?
Perhaps this is a process worthy of schools' consideration, whether it be in finding ways to 'close the 'Covid gap', developing learning through the arts, or any focus for teacher development.
Further information about the 'School Readiness Through Musicianship' project
The 'School Readiness Through Musicianship' project was funded through the Paul Hamlyn Foundation Teacher Development Fund, the aim of which is to support delivery of effective and sustainable arts-based teaching and learning opportunities in the primary classroom, and to embed learning through the arts in the curriculum. It aims to do this through supporting teachers and school leaders to develop the necessary skills, knowledge, confidence and experience. The application process for the next round of funding is currently open. You can find out more here: https://www.phf.org.uk/funds/tdf/
Want to read more?
Developing a 'Disciplined Inquiry'… | Durrington Research School
The School Research Lead &​'Disciplined Inquiry' – Dr Gary Jones
Disciplined Inquiry – or how to get better at getting better – Phil Stock
---
Written by Tracy Goodway, Regional Lead and Evidence Leads in Education Programme Manager for Saffron TS Hub
To read our other ELE blog posts, click here.
To sign up to receive new ELE blog posts directly to your inbox, click here.