Support and development for mentors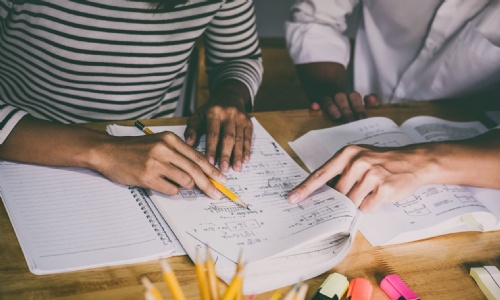 Mentoring is a must for trainee and early career teachers. Great mentoring propels new teachers forward in their careers - whereas poor mentoring can crush confidence and cause them to leave the profession.
The need for mentoring
"New teachers most benefit from being offered space to grow, reflect, continue to observe others, and to work collaboratively with colleagues. Mentoring is at its most powerful when it is built on positive personal relationships between novice teachers and those with more experience."- Professor Rachel Lofthouse in 'Mentoring in Schools' by Haili Hughes
One in five teachers leave school before they have served two years in the classroom (Weale, 2019). This is a frightening statistic.
How many of those early career teachers would have stayed in the classroom if they had been given the support of a highly skilled mentor? Somebody who was given the time and training to support and nurture them through what can be one of the toughest times of their career. Having supportive mentors and experienced colleagues to guide early career teachers can make a huge difference. We know all our local schools aspire to give our trainees and ECTs this opportunity.
Changes to the ITT Landscape
Recently Initial Teacher Training has undergone lots of changes through the ITT Market Review Reforms and the ITT Accreditation process. All ITT providers have had to re-apply to continue to operate in 2024. A strict process checking curriculum, mentor training plans and partnership structures has been in place recently.
We are pleased to say that Saffron Teaching School Hub has been able to work alongside the ITT providers in our region to ensure almost all providers were reaccredited. ITT providers are now working in formal and informal partnerships to create the new curriculum and mentor training materials to pass stage 2 of the accreditation process. As a region we are proud of our collaboration.
Challenges in mentoring going forward
With the implementation of the ECF programme, the sector needs a 50% increase in capable, well-trained mentors to ensure schools can host both ECTS and ITTs. We know how important it is for school recruitment to host trainees to grow and develop. Our local school leaders are having to think hard about how they can recruit and train more mentors in schools to meet this demand. Many schools are thinking about how to incentivise, train and rewards their mentors to ensure their pipeline.
In the new framework for 2024, general mentors from all ITT providers will need a minimum of 20 hours training in their first year of mentoring and 30 hours for more senior mentors. Perhaps most significant is the need to ensure schools can allocate a dedicated mentor to advise, support and guide ITTs and ensure that their mentors receive training and professional development to complete their role successfully.
How can Saffron Teaching School Hub help?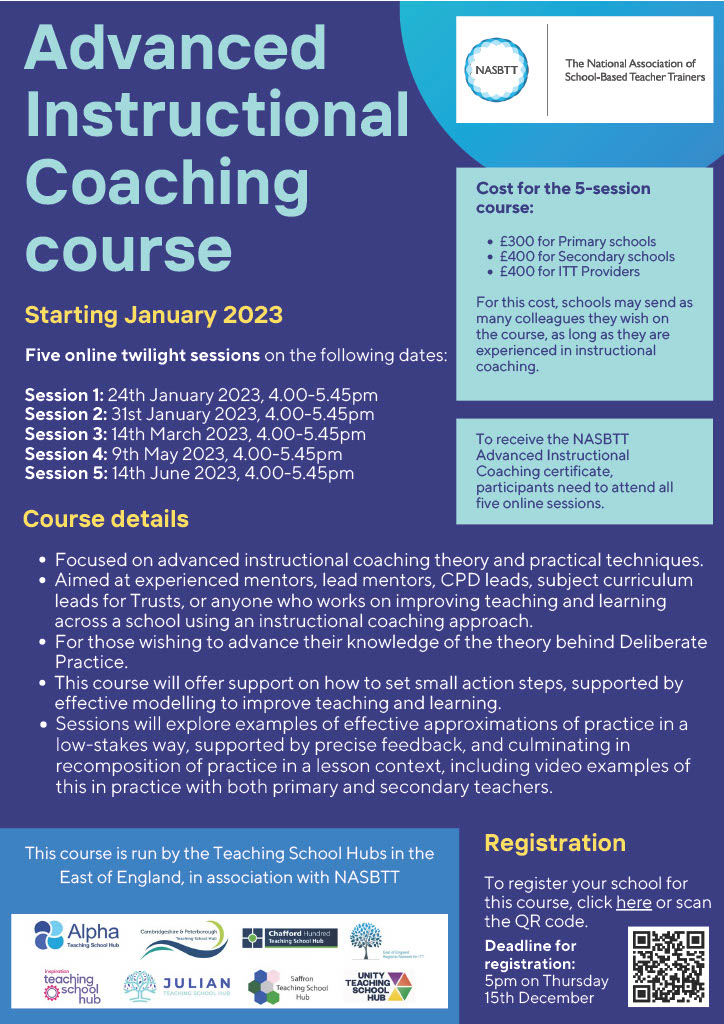 In response to the need for a co-ordinated approach to mentor training to avoid mentors in our region having to undertake multiple lots of 20 hours of training, Saffron TS Hub has been working with our local ITT providers to draw up some regional certificated mentor training that works across all providers. We have been piloting this already with our Instructional Coaching Level 2 course and our Core Content Training Programme which upskills mentors in the evidence insights offered by the Core Content Framework.
We are excited to launch an Advanced Instructional Coaching course, starting in January 2023, which focuses on how to use deliberate practice effectively. This course has now been opened up to schools in our region who wish to train colleagues in advanced deliberate practice.
The course is endorsed by NASBTT - further information, including course details, session dates, fees and details of how schools can register can be found in this flyer. The deadline for registration is 5pm on Thursday 15th December.
Mentors in our region also have access to the regional Subject Forums to help them stay up to date in the subject debates and relevant evidence insights.
What can schools be doing?
Choose your mentors wisely and plan ahead to ensure early training and protect your pipeline.
Give them time to do the role.
Have someone who leads on ITT in your school, who can support, develop, and champion mentors.
Dovetail mentoring into your CPD provision - make sure there is time in your CPD programme for mentors to read, meet and train.
Make mentoring attractive. Build it into appraisal structures and development opportunities so teachers see this as a rewarding career pathway that we value.