Initial Teacher Training update - February 2023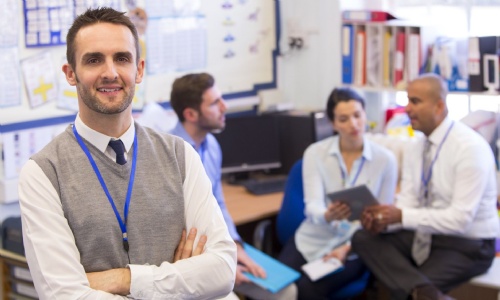 Saffron Teaching School Hub has been working hard to support our region's Initial Teacher Training providers, potential new teachers, and their mentors. We are committed to finding solutions to teacher supply for our region.
Saffron Teaching School Hub is determined to deliver the DfE's 'Golden Thread' of CPD at all stages of a teacher's career. Getting this right in the Initial Teacher Training year is crucial for the recruitment and retention of teachers in our region, allowing them to continue with future CPD programmes.
Train to Teach event - December 2022
Our recent Train to Teach recruitment event in December had over 190 potential new teachers register, with 21% of these enquiring about teaching in shortage subjects. All these delegates received a booklet after the event with a list of Initial Teacher Training providers in the region signposting subsequent recruitment events, alongside bespoke support from DfE advisors focused on non-UK and shortage subjects. The resources from this event can be found here.
"I just wanted to thank you for putting this event on. I wasn't sure what to expect and what I would gain from it.  I found the event extremely useful, providing me with lots more information and clear direction when it comes to teaching, funding, course providers and everything else in between." Feedback from a Train to Teach event delegate, December 2022
Mentor capacity, training and development
We do not underestimate the challenge of mentor capacity in our schools, and we want to work with you to be ahead of the 2024 Initial Teacher Training reforms. Our aim is to create a pool of well-trained, professional, evidence informed mentors who are committed to supporting the next generation of teachers.
Our Regional Mentor Training programme is just one solution to provider capacity to train new and existing mentors in the new ITT framework. We are pleased with the numbers of ITT providers from our region who are working collaboratively to deliver this training programme. We are heartened to see the commitment and professionalism from mentors in the region, with over 230 signed up to training in the Core Content Framework.
As we learn more about how early career teachers learn, we know many of schools are committed to using instructional coaching approaches. Our recent pilot programme focusing on deliberate practice in collaboration with NASBTT is now underway, with over 130 colleagues registered from our region, ranging from ITT and ECT mentors to those working on developing more experienced teachers to continue to improve. What they all have a common is a commitment to supporting other colleagues to improve their practice.
Mentor Conference - 9 March 2023
We are excited to announce that Saffron Teaching School Hub will be working with Deans for Impact and other Teaching School Hubs in the East of England to deliver our third annual regional mentor conference, targeted at both Initial Teacher Training and Early Career mentors.
This free online mentor conference will focus on the principles of the science of learning and will enable mentors to support novice teachers to apply these principles in the classroom. Hearing directly from Deans for Impact colleagues will be a highlight of this event.
To find out more about the Mentor Conference and to register, download the flyer here.