How can schools support recruitment and retention by investing in and developing their mentors?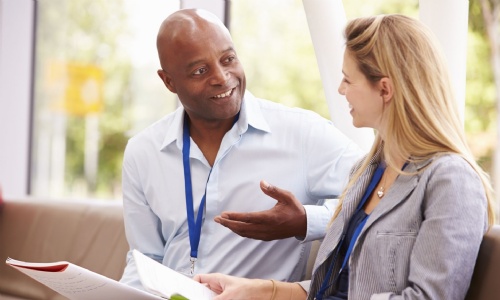 Key motivating factors leading to teaching as career are having an effective training programme. A school-based mentor supports trainee teachers for approximately 80% of their week, providing valuable models, guidance, and support.
"More teacher vacancies are chasing fewer new trainees, which means a squeeze on teacher supply." Jack Worth, March 2023. The recent NFER Teacher Labour Market Report makes for a stark read and reminds us of the need for skilled mentors in our schools to support those starting out in the profession.
How can Teaching Schools Hubs help?
Teaching School Hubs have a vital role in supporting schools with ITT engagement and in developing mentors. Saffron Teaching School Hub is committed to supporting Initial Teacher Training in our region.
If you are interested in finding out more about engagement in ITT or how to develop your mentors, please contact Angela Rodda, our ITT Lead, at arodda@swchs.net. You can also find information in the Train to Teach section of our website, including a specific area with support for mentors here, including resources from our recent mentor conference.
The shift to mentors as teacher educators
The introduction of the Core Content Framework and Early Career Framework has made a significant impact on the role of the mentor in recent times. Whereas in the past mentors may have been regarded as expert practitioners, supporting early career teachers' practice, there is now a shift towards mentoring explicitly teaching professional knowledge, particularly that specified in the ECF/CCF. This means that mentors are now regarded as contributing to the teaching of a curriculum.
The shift to a curriculum-led model of teacher development has resulted in:
More time needed for mentor training, especially the requirement for mentors to know the ECF/CCF content.

Development in the role of 'mentor' itself, which now includes developing professional knowledge in addition to supporting professional practice.
How new teachers can benefit from mentoring
There are some startling statistics around new teachers leaving education. This has implications for overall levels of experience amongst school staff. A higher teacher turnover rate inevitably has an impact on teaching standards. What can school leaders do to address this problem? A commitment to incentivising mentoring, choosing the best mentors, providing them with the capacity, training and an exciting career pathway could make all the difference.
How experienced teachers can benefit from mentoring
More experienced teachers can benefit from mentoring, and this has positive impacts for the school community overall. Pedagogical theory is ever evolving, with new concepts and approaches being developed and implemented in schools. Mentoring can be a useful way to encourage experienced teachers to be evidence informed and to try out new teaching approaches and develop their teaching practice. Having experienced teachers who understand the ECF/CCF strategies and evidence base is valuable for the whole school community. Schools that recommend mentoring for teachers in their 3rd and 4th year of teaching, or for those on UPS, are securing the mentoring pipeline.
Promote professional development for mentors to improve teacher performance
Continuous professional development for mentors is another factor which improves staff retention. More than that, it also builds teachers' confidence in their professional abilities. Having a mentor pathway built into your career development models is another effective way schools can raise the profile of mentoring. Schools who provide time for mentor specific CPD and link this role to performance management show how they value this important role.
Mentoring is a powerful strategy for boosting teacher development - what do you do to retain and develop your mentors?