Making NPQs work for you - a school story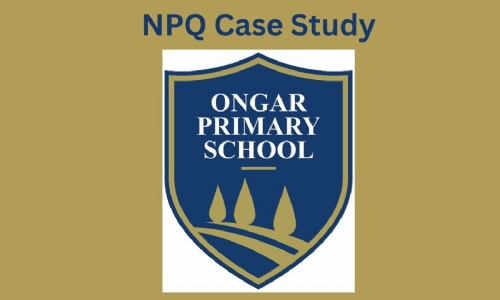 Schools across the Saffron Teaching School Hub area are benefitting from the Golden Thread of professional development which underpins the NPQ programmes, and seeing the positive impact the training has on staff and students alike. But how can schools make the most of their engagement and investment?
We spoke to Debbie Attridge, Headteacher of Ongar Primary School and co-facilitator of the NPQLL, to see how Ongar are making the NPQ programme work for them.
Ongar Primary School Pen Profile
My name is Debbie Attridge, and I am the Headteacher of Ongar Primary School - a single form entry school in West Essex. We have 7 teachers, 4 of whom have undertaken the NPQ accredited training this year. Our focus programmes are: NPQLL, NPQTL and NPQLBC.
As well as our teachers engaging in the NPQ, I am also facilitating the Teach First NPQLL with the Saffron Teaching School Hub.
Why did you choose to engage with the NPQ offer?
The research basis for the NPQ will enable staff to deepen their understanding of all aspects of teaching and learning. It will develop the strong foundations we have built in our whole school CPD, and allow staff to apply this to their chosen area of interest or specialism.
What were the barriers to engagement? How did you overcome them?
The main barrier to engagement as the time commitment.
In order to overcome this, we have termly PDMs devoted to 'study time' providing time for staff to have professional conversations about their learning.
How would you rate the quality of the training and materials that underpin the programme? Why?
The quality of the training and materials is fantastic! The modules are well-structured, build on prior knowledge and are rooted in current best practice. The underpinning theory is clearly explained and continually re-visited.
The courses provide real-life scenarios and consistently allows staff to reflect and comment on their own practice. Staff enjoy the supportive group sessions which also provide additional guidance and a solution focussed approach.
What is the impact of your engagement so far:
On individual teachers

On practice and pedagogy

On progress and outcomes for pupils
The quality of professional dialogue is enhanced. Our staff have a deeper understanding of best practice pedagogy, how and why to implement it.
Another positive impact is that staff are now welcoming the introduction of new initiatives as they understand the rationale and can better link it to their own learning.
At this stage, the benefit on outcomes is too soon to see, but staff are more reflective of their practice and proactive in their approach.
How do you enable staff to engage with the programme:
Attending Training

Completing Modules

Pre tasks, Reflections etc
We're conscious of workload and wellbeing, so we if there is an NPQ session scheduled for that week, it becomes the PDM session and other meetings are minimised.
Our timetable includes termly study sessions.
We've also initiated Pair and Share sessions as part of a PDM for staff to articulate ideas/thoughts, share new learning, and ask about the practice of others related to their NPQ.
We also have an open-door policy of all SLT, and as headteacher, I carry out informal check-ins with NPQ staff to discuss wellbeing, workload, learning and ideas to share.
How is knowledge from a programme being transferred to teachers?
Lots of the theory and evidence-based research links to our SDP. These elements are woven into our PDMs. NPQ participants reinforce or contribute to sessions.
Professional conversations through our Pair and Share sessions are also ensuring knowledge is dispersed to teachers and leaders at all levels.
What other benefits has the NPQ programme brought to the school?
Our staff feel valued because of the investment of time and money.
The profile of professional development has been raised across the school.
It also demonstrates our commitment as a school to a 'learning culture'.
Why should leaders and teachers engage with an NPQ?
The benefits far outweigh the barriers. It strengthens the teaching picture across the school with a deeper understanding of learning and pedagogy. The quality of professional dialogue is enhanced. Staff feel valued and welcome the challenge of 'new' learning. Learning that is relevant, practical and applicable to their daily roles.
I cannot recommend it highly enough.
Our sincere thanks to Debbie and the team at Ongar for sharing their valuable experiences and reflections. We hope that their success story can inspire other schools and colleagues to put the NPQ Programme at the heart of their practice.
To find out more about NPQ programmes with Saffron Teaching School Hub, visit the NPQ section of our website here.