Launch of new NPQ cohort at Harlow Study Centre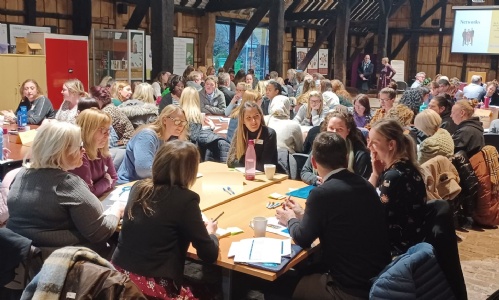 At the end of February we were delighted to welcome our fourth cohort of NPQ programme members to the Harlow Study Centre for the launch of their Leadership and Specialist NPQ programmes. It was fantastic to see our facilitators and programme members come together to establish relationships before embarking on their NPQ journeys.
The introductory conference on 28th February was led by Saffron Teaching School Hub's NPQ Leads, Angela Rodda and Katie Vanderpere-Brown, who brought a wealth of leadership expertise and local knowledge in presenting an overview of the NPQ programmes.
Programme members were given advice on how the courses are structured and how to engage with the online learning platform, as well as being given a taste of the online seminar content for their own specific NPQ. It was the first chance for this new cohort of 86 leaders to meet their fellow programme members face to face before starting their course.
We are delighted to be working with Teach First to deliver the full suite of NPQ programmes and we would like to thank the team at the Harlow Study Centre for welcoming us once again to their fantastic venue.
Would you like to apply for our next cohort of NPQs?
If you are interested in joining our October 2023 cohort, please complete our NPQ Expressions of Interest Form. We will then contact you in the summer term with a link to the full application form.
You can find details of our full suite of Teach First NPQs here.
Are you interested in becoming a facilitator on our NPQ programmes?
We are looking to increase our pool of facilitators for our next cohort. If you are interested in joining our facilitation team please complete our NPQ Facilitator Application Form.
You can find an NPQ Facilitator role description here.