Matrix Maths Hub
---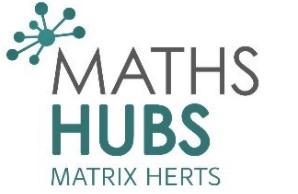 The Maths Hubs programme is Department for Education funded and led by the NCETM (National Centre for Excellence in the Teaching of Mathematics). We bring together mathematics education professionals in a collaborative national network of 40 Hubs each locally led by an outstanding school or college, to develop and spread excellent practice, for the benefit of all pupils and students.
The Matrix Maths Hub supports schools and colleges to achieve excellence in mathematics education from Early Years to post-16. We are based in Bishop's Stortford at The Hertfordshire and Essex High School.
Areas covered:
The Matrix Maths Hub covers Harlow and the whole of Hertfordshire.
Braintree, Chelmsford, Epping Forest and Uttlesford are covered by the Venn Essex Maths Hub.
Find out more about the Matrix Maths Hub:
---
Matrix Maths Hub - Work Groups & Events
We offer Subject Knowledge courses for teachers, teaching assistants in early years, primary and secondary phases, including courses specifically for Early Career Teachers.
For details of all our Work Groups, visit https://matrixmathshub.co.uk/
Featured Work Groups:
Developing Core Maths Pedagogy Work Group
This Work Group aims to explore and develop the links between the Mathematics required in Core Maths to its application in the Real World. Whether this is its application in specific jobs and careers or simply day-to-day life in which people don't realise they are using Maths. Teachers will develop new approaches to hooking students in and engaging them in real life contexts and problems.
For more information and to book visit:
https://matrixmathshub.co.uk/project/developing-core-maths-pedagogy/
Click here for a downloadable flyer.
Cross-Phase Digital Technology for Mastery Research and Innovation Work Group (RIWG)
Exploring how the use of digital technologies supports pupils to gain a deeper understanding of the mathematics they are studying.
Join our Research and Innovation Work Group to help us build and develop a collection of digital resources that will help improve students' conceptual understanding. This group will be run with a view to ensuring continuity with these resources across key stages.
For more information and to book visit:
https://matrixmathshub.co.uk/project/digital-technology-research-and-innovation-work-group-2023-4/