Matrix Maths Hub
---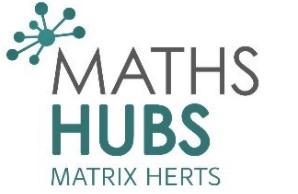 The Maths Hubs programme is Department for Education funded and led by the NCETM (National Centre for Excellence in the Teaching of Mathematics). We bring together mathematics education professionals in a collaborative national network of 40 Hubs each locally led by an outstanding school or college, to develop and spread excellent practice, for the benefit of all pupils and students.
The Matrix Maths Hub supports schools and colleges to achieve excellence in mathematics education from Early Years to post-16. We are based in Bishop's Stortford at The Hertfordshire and Essex High School.
Areas covered:
The Matrix Maths Hub covers Harlow and the whole of Hertfordshire.
Braintree, Chelmsford, Epping Forest and Uttlesford are covered by the Venn Essex Maths Hub.
Find out more about the Matrix Maths Hub:
---
Matrix Maths Hub - Work Groups & Events
We offer Subject Knowledge courses for teachers, teaching assistants in early years, primary and secondary phases, including courses specifically for Early Career Teachers.
Research and Innovation Work Groups
Our local Research and Innovation Work Groups are now under way - however, we are still accepting bookings for the RIWGs listed below.
If you are interested in taking part, please click on the title for more information and to book your place:
What is a Work Group? Find out more here.
If you have any questions about any of these programmes, please contact Rebecca Conroy.
---
Primary Teaching for Mastery Development Work Groups
We are now accepting bookings for our Primary Teaching for Mastery Development Work Group. Be part of the continuing programme to develop teaching for mastery in maths in primary schools.
Two teachers from each participating school join a Work Group, consisting of six or seven local primary schools. Each Work Group is led by a trained Primary Mastery Specialist. Work Groups meet regularly to plan, observe and discuss teaching for mastery. In between meetings, teachers explore mastery approaches in their own classrooms and across their school.
For more information and to apply, please click here.
---
Mastery in the Classroom
Sign up now to one of our Mastery in the Classroom events in June where you'll have the opportunity to see our Mastery approaches in action:
Thursday 8th June 09:30-11:30: Christ Church C of E School, The Common, Chorley Wood, Rickmansworth WD3 5SG (Y4 lesson). Click here to book
Wednesday 14th June 09:30-11:30: Pemberley Academy, Hodings Rd, Harlow CM20 1NW (UKS2). Click here to book
Wednesday 21st June 09:30-11:30: Knebworth Primary School, Swangleys Lane, Knebworth SG3 6AA (KS1). Click here to book
Specialist Knowledge for Teaching Mathematics (SKTM) – starting May 2023
With the pressures of timetabling and the need to deploy staff flexibly, many secondary schools find that they have teachers teaching outside their specialism. This can mean teachers from a range of subject backgrounds teaching in maths departments, tackling complex topics, and having to plan lessons with unfamiliar content.
If you want to give teachers in your maths department the opportunity to hone their subject knowledge and classroom practice, this programme is ideal.
For more information and to book your place, please visit:
https://matrixmathshub.co.uk/project/specialist-knowledge-for-teaching-mathematics-sktm-secondary-non-specialist-teachers-summer-term-start/