New Vision English Hub
---

The New Vision English Hub is one of 34 English Hubs nationwide, funded by the Department for Education to support primary schools in achieving excellence in teaching reading and early language development. We provide and free support to schools in North East London and Essex.
The New Vision English Hub is based at Elmhurst Primary School, an outstanding school in the heart of Newham. We are passionate about reading and teaching all children to read fluently and for enjoyment. As an English Hub and Maths Hub, we have considerable expertise in providing high-quality CPD, funding and bespoke support to drive school improvement.
For more information and contact details visit the New Vision English Hub website: https://newvisionenglishhub.co.uk/
---
2023-24 Phonics Reading Leader Network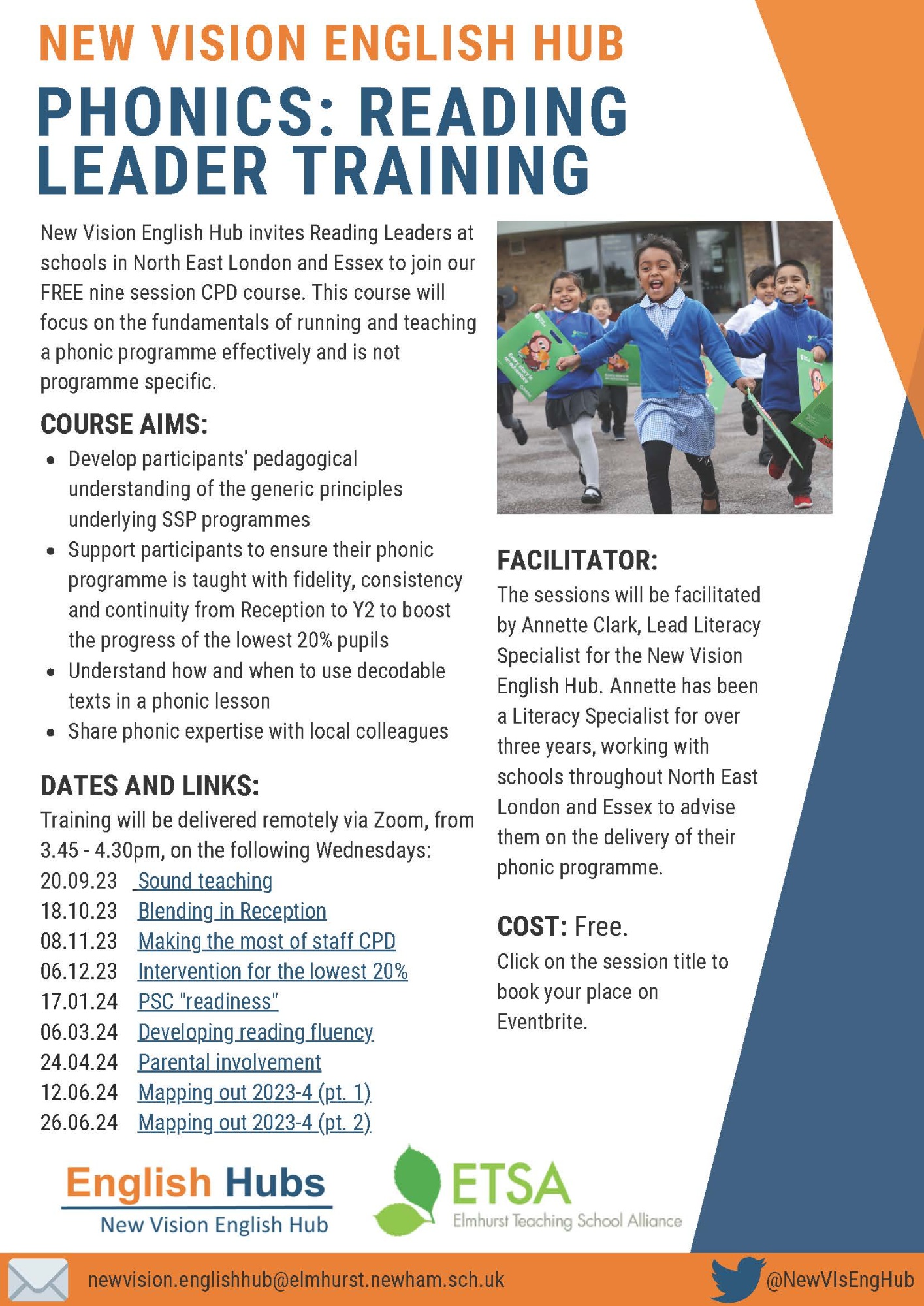 The Phonics Reading Leader Network is a nine session remote course, focused on the fundamentals of running and teaching a phonic programme effectively. It is not programme specific and participants can choose to attend sessions which are most applicable to their training need.
Participants will develop their pedagogical understanding of the generic principles underlying SSP programmes, understand how and when to use decodable texts in a phonics lesson, review strategies to boost the progress of the lowest 20% of pupils and share phonic expertise with local colleagues.
Sessions are 45 minutes long and will focus on topics such as: effective intervention for the lowest 20%, blending in Reception and engaging parental support.
For a flyer and sign up link, click here.
---
English Hub Showcase Event - 16 November 2023
Come to Elmhurst Primary School on 16 November 2023 to find out how you can access ongoing support and funding of up to £6,000 for your school. During the morning you will have the chance to observe phonics teaching at Elmhurst, receive free CPD on early language development and reading for pleasure and plan next steps for your school.
This event is open to Headteachers, Reading Leaders and Senior Leaders in EYFS and KS1. Up to two members of staff can attend a Showcase. If your school achieved less than 82% in the 2023 Phonics Screening Check, then we are able to reimburse £160 to offset the cost of cover and travel. Headteacher attendance is compulsory in order to claim for cover costs.
For a flyer and sign up link, click here.
---
Accelerator Fund
New Vision English Hub is able to offer schools across NE London and Essex another route to financial support for the 2022-23 Academic Year through the Accelerator Fund. Accelerator Fund schools could be eligible for up to £6,000 funding towards phonics resources and training. Accelerator Fund schools can also qualify for between 1-3 days of bespoke school support delivered by one of our Literacy Specialist team.
Priority will be given to schools who match the following criteria, which falls in line with the English Hubs programme funding criteria:
Lower than the national average percentage of pupils meeting the expected standard in the Phonics Screening Check in their most recent results
A higher-than-average proportion of pupils reading below age-related expectations
A higher-than-average proportion of children eligible for Pupil Premium
Ofsted judgement of Requires Improvement or Inadequate
A high proportion of groups considered hard to reach, such as EAL, FSM, travellers, etc
Schools referred by local partners (e.g., NLEs, RSCs, LADs, EIA teams/boards)
Additionally, we can fund schools who:
Have Ofsted ratings "good" or "outstanding", but whose English practice indicates a risk of declining standards
Have a Pupil Premium percentage equal to or below the national average
Schools with children at KS1/KS2 but do not complete the Phonics Screening Check
The Accelerator Fund is open to a wider remit of schools, including junior schools, special schools, schools with Ofsted ratings of "Good" and "Outstanding" and schools with lower pupil premium percentages. Schools who have previously received English Hubs resource funding are eligible for further funding through Accelerator Fund if they haven't had their maximum of £6,000 previously.

Please note that the Accelerator Fund offer is limited to the 2022-23 academic year. Demand is expected to be high and therefore school funding will be awarded in line with the priorities listed above.

If you think that your school might be eligible for the Accelerator Fund, then please get in touch with the Accelerator Fund Delivery Lead, Sanisha Pahl, at: sanisha.pahl@elmhurst.newham.sch.uk
You can download this information about the Accelerator Fund here.