Saffron Teaching School Hub as a Lead Partner for West Essex SCITT
---
Who are we?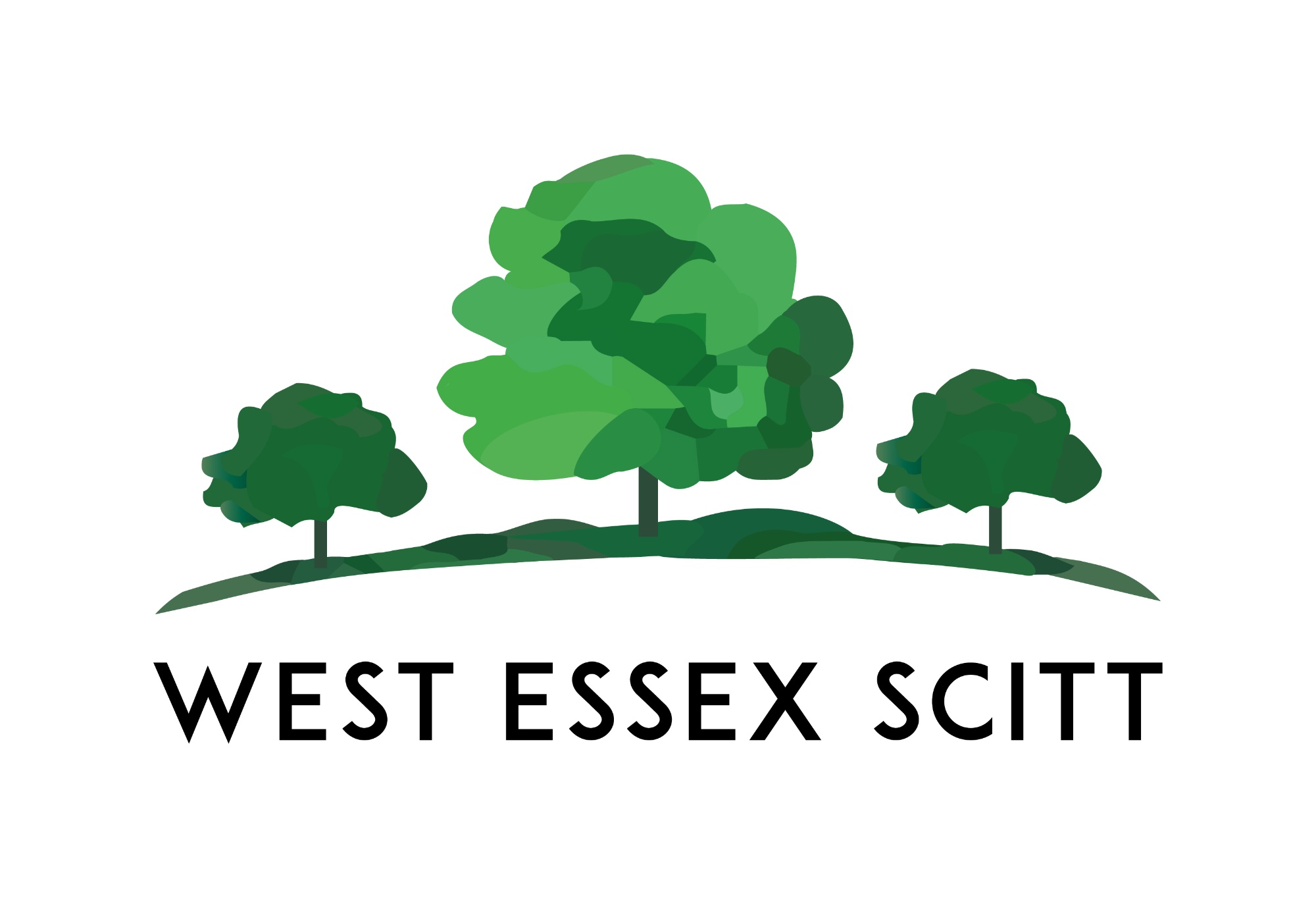 The Department for Education accredits Epping Forest Schools Partnership Trust (EFSPT), operating as West Essex SCITT for the delivery of initial teacher training (ITT) in collaboration with Saffron Teaching School Hub as the Lead Partner.
St John's CE Primary School, Epping Forest Schools Partnership Trust, and our partnership schools, believe that teaching is an exciting, challenging and rewarding profession. Our vision is to offer the highest standard of education for all, both in our local community and the wider area.
Our teachers are excellent practitioners and are eager to share their skills, knowledge, and vision with the next generation of teachers.
We pride ourselves on having a proven track record in training and professional development. All our trainees who graduated from the course over the past three academic years have secured employment. Many of our trainees go on to secure full-time teaching positions within the Epping Forest Schools Partnership Trust.
What routes are available to me when training with Saffron TS Hub and West Essex SCITT?
Saffron TSH as Lead Partner for West Essex SCITT offers teacher training routes in Primary with Fee funded QTS only and Fee Funded PGCE with QTS. The course requires a commitment of 5 days a week for the length of the training programme, from September to July, with one day a week of more theoretical study of teaching.
Further information about different routes can be found by:
Visiting the West Essex SCITT website
Attending a West Essex SCITT recruitment event where you can find out more about each training route and get personalised advice - find out more here
You can also find out about getting school experience with West Essex SCITT here.
How do I apply?
Applications for teacher training for the academic year 2024-25 are now open.
To apply for teacher training with Saffron Teaching School as a Lead Partner for West Essex SCITT:
1) Click on the pink button below to go to the Department for Education Apply for Teacher Training website.
2) Once you have registered on the DfE Apply for Teacher Training website, you can search for Saffron Teaching School Hub as a Lead Partner for West Essex SCITT. You will get course/routes at this point to help refine your search.
3) To find Saffron Teaching School Hub's unique course codes for West Essex SCITT training courses, expand the heading below:
Course codes
| | | |
| --- | --- | --- |
| Course | Course details | Course code |
| Primary 4-11 | PGCE with QTS full time | Q882 |
| Primary 4-11 | QTS full time | X923 |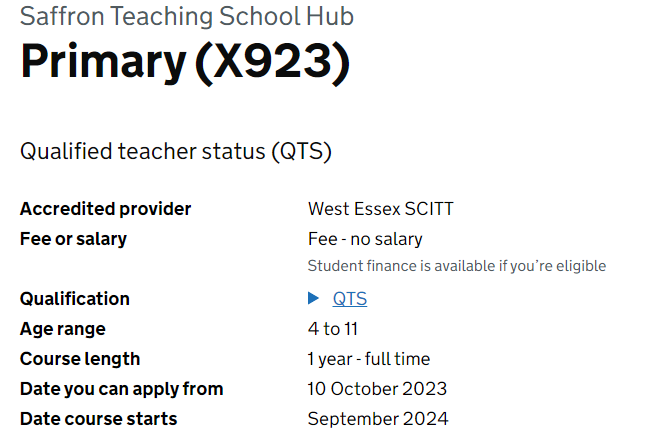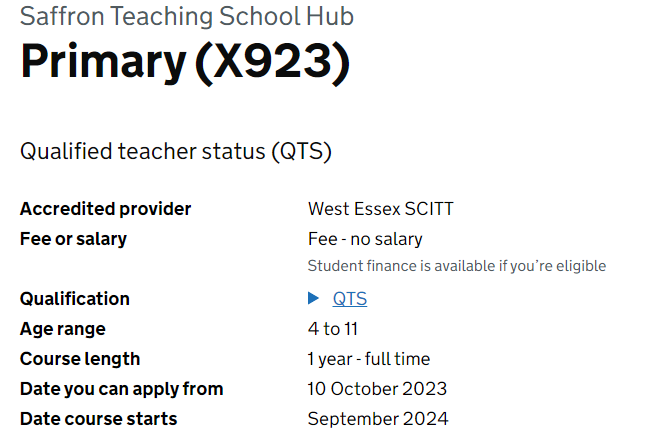 Tell me more about the course
You will be placed in one of our partner schools for your training. Part of the course is theory-based and there will be weekly formal training days held in our training room at The Alderton Junior School in Loughton. Both routes provide trainees with Qualified Teacher Status (QTS).
The course requires a commitment of 5 days a week for the length of the training programme, from September to July. Trainees are expected to participate fully in the everyday life of the school in which they train and, therefore, occasional evening or extra-curricular events will be obligatory.
Your professional responsibilities will include assessing, planning, and teaching the primary curriculum.
You will be supported by highly experienced Teacher Educators and Tutors who will develop your skills through a range of coaching, feedback, and observation.
Where will I train?
You will have two placements from a list of our excellent partner schools. Expand the heading below to see a list of our partner schools.
Partner schools
West Essex SCITT partner schools for Saffron Teaching School Hub courses:
High Ongar Primary School

Ongar Primary School

Manuden Primary School

St Andrew's CofE Primary School
A full list of West Essex SCITT partner schools can be found here: https://www.westessexscitt.co.uk/Partner-Schools/
How will I be assessed?
Assessment is against the curriculum you are taught, and evidence is created against this curriculum. This might take the form of a range of evidence including lesson plans, lesson observations by expert teaching professionals, assessment data for your classes - all of which you collect throughout the course. This evidence feeds into your more formal reports all leading to Qualified Teacher Status (QTS).
What does West Essex SCITT have to offer me?
West Essex SCITT has an approachable, friendly, and supportive staff who really get to know our trainees, offering fantastic, personalised support. Each trainee has a Senior Tutor who will not only track your progress across the course, but also support any pastoral needs, including applying for your first teaching post.

West Essex SCITT works within a forward-thinking, respected and supportive trust, the Epping Forest Schools Partnership Trust (EFSPT). EFSPT is a leading educational organisation in Epping Forest, formed in 2018 from a consortium of schools which had worked together for over 20 years and are committed to collaborative working to ensure the best possible outcomes for our children and school communities.

West Essex SCITT is currently working closely with The University of Derby to deliver the PGCE element of the course.

You will have access to weekly Core Training sessions led by experts from within our many partnerships schools and Trust.

You will have the support of an experienced mentor in your placement school setting and the addition of a Senior Tutor/Lead Mentor who is an expert in teacher training and will offer personalised support.

All trainees have a package of core texts and research to support development.
Eligibility
To qualify for the Primary Initial Teacher Training programme school centred routes, you must have:
English, Maths and Science GCSE grade C/4 or above or equivalent *

A degree of preferably a 2:1 or above, though no minimum is specified as we are willing to consider applicants who have a degree who can demonstrate a real aptitude for teaching.
You must also:
Provide two references

Be able to demonstrate an ability to communicate clearly and grammatically in both spoken and written Standard English.
Online searches may form a part of our recruitment process.
* All overseas qualifications will need to be verified by ENIC (previously known as NARIC). UK ENIC verification is required for all overseas degree and GCSE equivalent qualifications. You can check your overseas qualifications at the UK ENIC website.
You can also read more about eligibility on the DfE Get into Teaching website.
If you are not sure about eligibility please contact us to arrange a phone conversation about your situation.
Diversity, Equality and Inclusion
Saffron Teaching School and West Essex SCITT are committed to equality of opportunity for all and actively oppose all forms of discrimination. We have a responsibility to ensure that trainees have the health and capacity to train to teach and will not put children and young people at risk of harm, whilst meeting the expectations of the Equality Act 2010 in relation to the offer of reasonable adjustments. See here for possible reasonable adjustments.