Support for schools
---
Saffron Teaching School Hub would like to thank our local schools for their continued commitment to Initial Teacher Training. We have been so impressed with schools' engagement and support for ITT in recent turbulent years - trainees have been welcomed in schools and well-supported by their mentors.
As a Teaching School Hub we strive to support recruitment and retention of trainee teachers for our region. Headteachers' commitment to ITT is vital.
A training school is a stronger school, and through collaboration on ITT, we can work together on ensuring we have high quality teachers in our local schools. Schools working with ITT providers strengthens local teacher supply and gives fantastic opportunities for teaching staff to develop professionally as teacher educators, such as mentors, subject leads and in senior ITT roles.
We have recently written to all Headteachers of schools in the Saffron Teaching School Hub area asking for information on their school's engagement in Initial Teacher Training for 2023-24, with an online form to complete to capture their school's full contribution to ITT. To view the email sent to Headteachers, click here.
---
DfE Initial Teacher Training (ITT) reform: Information for schools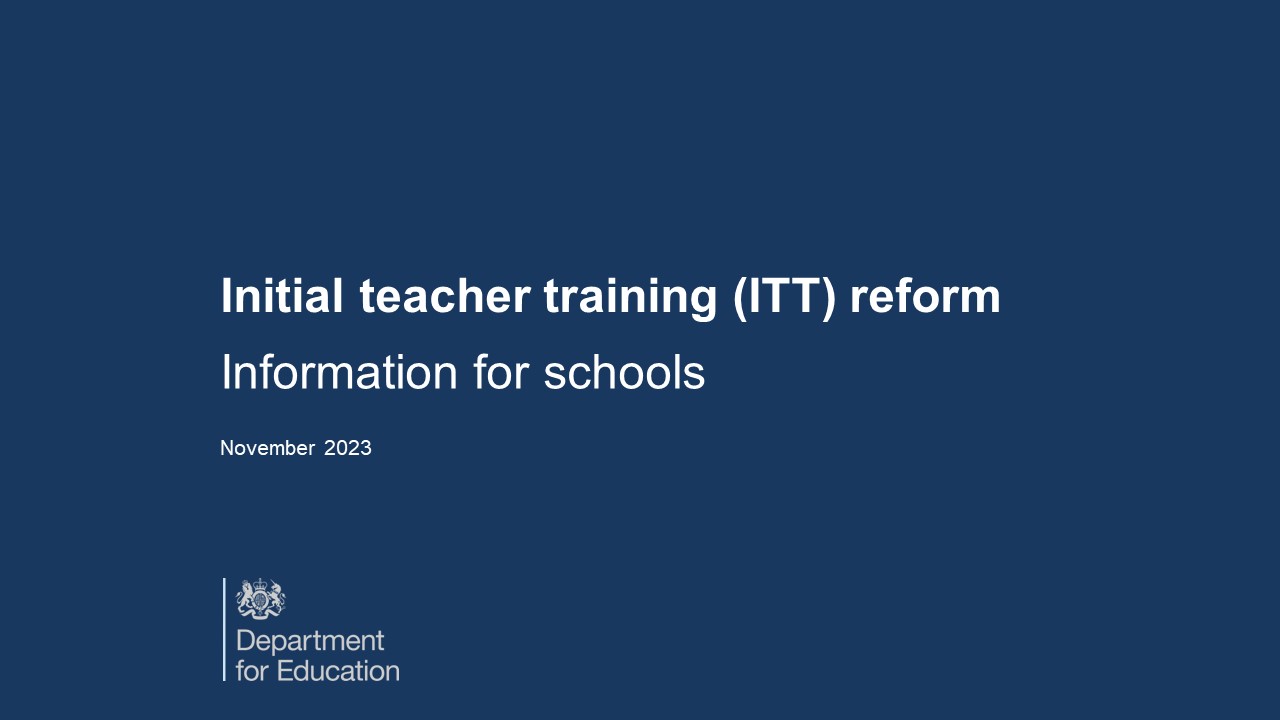 The Department for Education has produced a slide deck to support schools in understanding the recent changes to Initial Teacher Training and how this might affect them. The DfE, ITT providers and Teaching School Hubs know what an important role schools play in training teachers and are keen to ensure schools are informed and ready to implement these changes that come into play for 2024-25 delivery.
You can access the DfE slide deck here:
DfE Initial Teacher Training (ITT) reform: Information for Schools (November 2023)
We have produced a summary of the key messages from the DfE slides - see here.
---
ITT provider directory for Headteachers
Please click on the pink button below to view our 2022-23 ITT provider directory for Headteachers. This brochure summarises the ITT provision in the Saffron Teaching School Hub area to help schools who would like to engage in ITT make informed choices about their next steps. The brochure outlines what ITT providers can offer potential partnership schools and lists contacts for Headteachers who are interested in further discussions with particular ITT providers.
In this changing landscape for the Initial Teacher Training, we hope this brochure gives Headteachers the information they need about current ITT providers and what they can offer potential partnership schools.
We will be providing headteachers with an updated brochure summarising the changing ITT landscape for 2023-24 shortly.
If you are interested in having further discussions about engaging more/differently in Initial Teacher Training, please contact us and we will follow this up with you.