Venn Essex Maths Hub
---

The Maths Hubs programme is Department for Education funded and led by the NCETM (National Centre for Excellence in the Teaching of Mathematics). We bring together mathematics education professionals in a collaborative national network of 40 Hubs each locally led by an outstanding school or college, to develop and spread excellent practice, for the benefit of all pupils and students.
The Venn Essex Maths Hub's aim is to ensure that all pupils, teachers and leaders have access to support, training, and innovation that will improve the enjoyment and achievement of mathematics, from Early Years through to the post 16 sector.
The Venn Essex Maths Hub is led by St Thomas More's Catholic Primary School, an outstanding primary school in the heart of Colchester. With a dedicated team of operational partners who help carry out the Hub's work, we work very closely with our Strategic Partners, who help plan and evaluate our work. We work with successful, established mathematics communities across the Essex region as well as national partners and mathematics associations.
Areas covered:
The Venn Essex Maths Hub covers the Essex area including Braintree, Chelmsford, Epping Forest, Uttlesford, Southend-on-Sea and Thurrock.
Schools in Harlow are covered by the Matrix Maths Hub.
Find out more about the Venn Maths Hub:
---
Venn Essex Maths Hub - 2023-24 CPD offer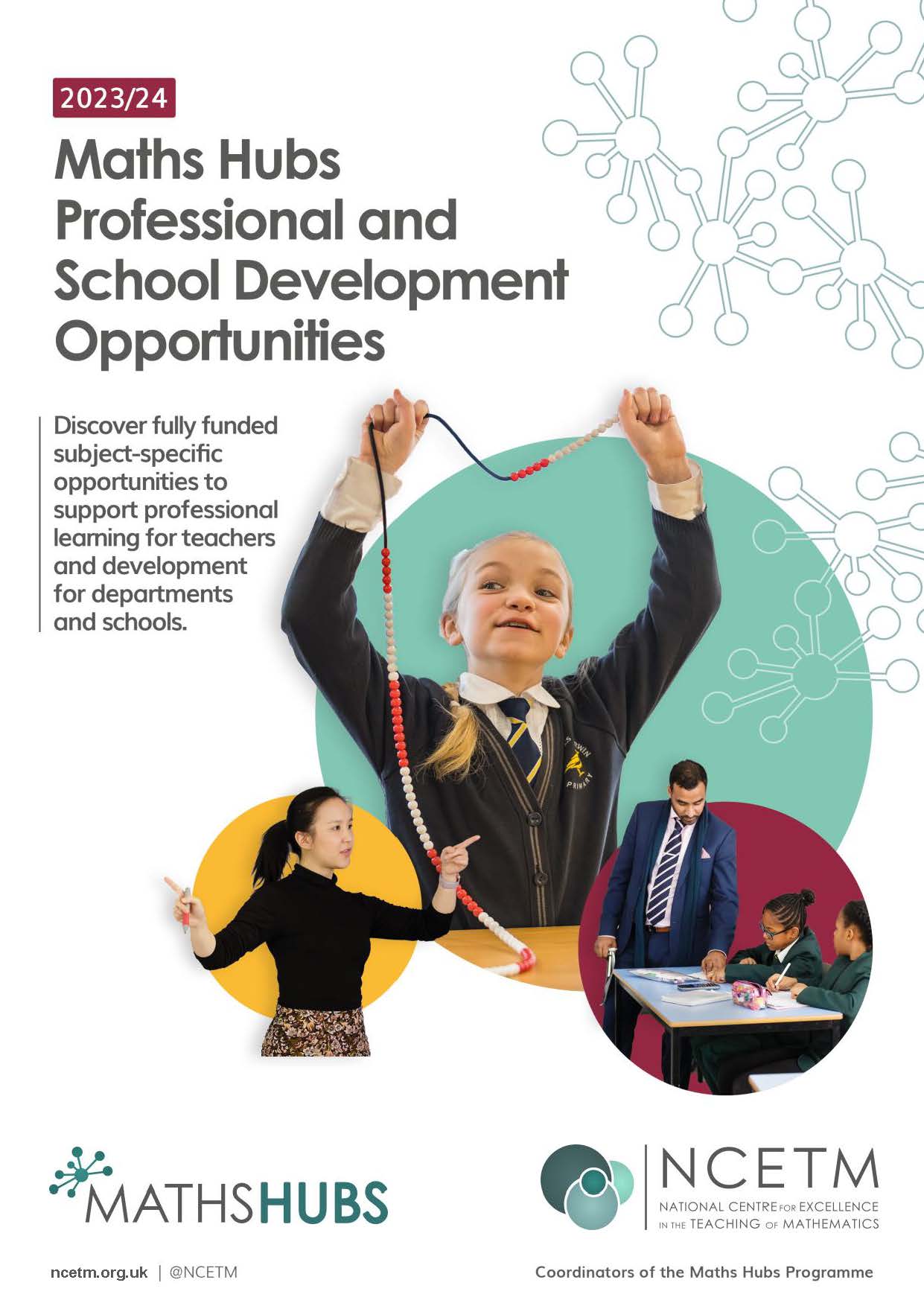 Discover fully-funded subject-specific opportunities to support professional learning for teachers and development for departments and schools.
To view our 2023-24 CPD offer, click on the link below:
Venn Essex Maths Hub 2023-24 CPD catalogue
If you have any questions about any of our programmes, contact Kelly at kelly@vennessexmathshub.co.uk.
Calling all Secondary Non-Specialist Teachers!
Our Secondary Non-Specialist programme is designed to support teachers teaching maths in a secondary school in developing specialist knowledge for teaching mathematics, thus enabling them to understand, teach and support students in maths in the classroom. It replaces the earlier TSST programme.
Non-specialist teachers of maths in state-funded schools who fit the following definition are welcome to participate:
"A non-specialist teacher of mathematics is a teacher in a state-funded school or college that is currently teaching some mathematics or has commitment from a headteacher/executive head to teach some mathematics within the next year, who has not undertaken Initial Teacher Training (ITT) in mathematics."
If there is sufficient space in the cohort, other teachers of maths who do not fit this definition but would benefit from this support may also participate.
The programme is aligned to the NCETM teaching for mastery pedagogy and is based on six key themes:
Structure of the number system
Operating on number
Multiplicative reasoning
Sequences and graphs
Statistics and probability
Geometry
The SKTM Programme offers participants:
Six days, or the equivalent, of face-to-face or online expert input, plus further local support
The opportunity to be part of a vibrant and supportive online community
Access to high quality resources
We plan to deliver the first three days after completion of the GCSEs so the impact on cover will be less due to their gained time. Sessions will be held at St Thomas Mores Primary School, Colchester CO1 2QB on:
Thursday 22nd June 2023
Friday 7th July 2023
Wednesday 12th July 2023
All sessions will run from 09:00 - 15:30.
The remaining 3 days will be held in the autumn term - dates for these sessions will be confirmed in July.
To book your place click here.
Primary Teaching for Mastery
Applications for our Teaching for Mastery Readiness and Development programmes are now open.
What is teaching for mastery?
Mastering maths means pupils of all ages acquiring a deep, long-term, secure and adaptable understanding of the subject. The phrase 'teaching for mastery' describes the elements of classroom practice and school organisation that combine to give pupils the best chances of mastering maths. Achieving mastery means acquiring a solid enough understanding of the maths that's been taught to enable pupils to move on to more advanced material.
Teaching for Mastery is currently more widespread in primary schools across England, with around 9,000 primary schools engaging with their local Maths Hub, and over 850 primary teachers training as Mastery Specialists. You can find out more from the NCETM website here.
Find out more about the Readiness pathway here.
Find out more about the Development pathway here.
To apply for either programme, please email kelly@vennessexmathshub.co.uk