Support for Early Years practitioners from Saffron TS Hub - Autumn Term seminars and CPD opportunities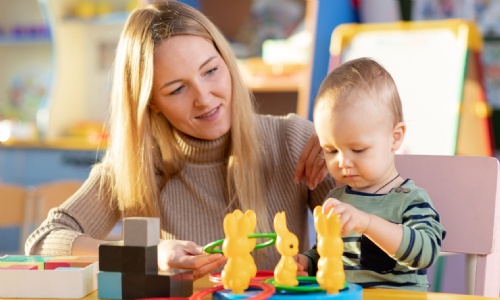 We all recognise that learning is a lifelong process of keeping abreast of change. Recent years have seen significant changes in national requirements for provision in the Early Years with the implementation of the revised EYFS curriculum put in place in September 2021 and the return to Ofsted inspections under the Education Inspection Framework (EIF).
Added to this the impact of the pandemic is still being keenly felt by practitioners as they strive to continually develop practice to meet the needs of young children who have lived the first years of their lives in unique circumstances. Who could have predicted that the word 'bubble' would come to have such a different meaning and significance!
This combination reinforces and perhaps increases the relevance and value of Continuing Professional Development, not only to enable practitioners to develop the knowledge and skills to implement the revised EYFS framework, and meet the unique needs of our current cohort of children, but also to enable collaboration and networking with colleagues in the sector, much missed in the enforced isolation of Covid.
Sian March of Best Practice Network believes that the value of CPD as a tool for promoting staff wellbeing was one of the big learning points for the Early Years sector over the past year.
Free online seminars for Early Years practitioners from the Saffron TS Hub - Autumn Term
Saffron Teaching School Hub has a role to play in supporting the professional community of practice in the Early Years - enabling practitioners to access quality professional development and networking opportunities. One of the unplanned impacts of national lockdowns was opening us all up to the possibilities of technology in providing opportunities to connect, share ideas, and make time efficient continuing professional learning possible.
As a result, last term we launched our free online seminar series designed to support Early Years settings in accessing quality professional development for their staff.
This term's seminars will take place as follows:
Tuesday 8 November 5:00-6:00pm on Zoom
The Importance of Music and Rhyme in young children's development
Plus Practitioner case study : from an outstanding setting
Tuesday 6 December 5:00-6:00pm on Zoom
Exploring Education for Sustainable Development in Early Years
Plus Practitioner case study : from an outstanding setting
How to book: To book your place on one or both of these seminars, click here.
You can download a flyer about the seminars at the bottom of this page.
Other Early Years CPD opportunities in our region
In our letter to Early Years providers last term, we also gave information about other professional development opportunities in our region:
Get in touch
We are continually striving to ensure that our programme of support meets the needs of the settings and schools in our region and we would love to hear from you. If you have any suggestions, please contact us.